In this blog we take a look at the evolution of our tractor cabs, how they improved safety and comfort for farmers, and how they have changed over the years.
Tractor Prehistory- Horses had no cabin.
Horse-drawn farming implements didn't have cabins, so the first tractors didn't either. The other advantages tractors brought were enough to convince farmers that mechanical power was better than muscle power.
Rubber wheels and other big improvements made tractors usable year-round, and the engine carried on pulling all day and into the night. This led to farmers' working days becoming longer. Understandably, drivers started to look for some kind of cover to protect against the worst of the weather. Of course, the engine also acted as a source of heat that could be used to warm the driver. Several accidents in the early days caused by tractors overturning highlighted the need for better driver safety. In the late 1970s, several manufacturers developed tractors with cabs. These soon evolved into solutions that offered some level of noise isolation as well as heating and cooling. In the early 1980s, the authorities stepped in and started requiring solutions to ensure occupational health.

Valmet – a forerunner in tractor cab comfort
Valmet was a forerunner in creating comfortable tractor cabs. Smaller farm sizes and the long winters in Finland have forced farmers to seek income from forestry. When compared to forest work with a horse, using tractors really made a leap in work efficiency. Specialised tractors took a fast dedicated route to forest machinery during the 1970s and 80s. The first Valmet tractor cabins of the mid-60s to the end of the 1970s included the full range of possibilities for forest work: good heating, a narrow design to fit in between trees even on rough, uneven, terrain, and the suitability to a half-track solution. This was the best option for a 2-wheel-drive tractor to cope with the huge need for traction power in an extremely slippery, snowy terrain.
Large tractor cabs increase ergonomics
4-wheel drive was the next innovation to become mainstream. The Nordic tractor series "Volvo BM Valmet" launched in 1982 and totally changed the approach to cab design. Now that there was a large cab, you could turn the seat and work "backwards" with, for example, a hydraulic timber loader, another new invention.
At the same time, more attention was paid to driver comfort, noise isolation, and heating. Air conditioning was still more of an "add-on" feature in the Nordic series, however, it was already becoming more standard for rivals working on south European or US fields. In the 1980s most of the big manufacturers launched cabin model tractors, and for them, air conditioning was prioritised over proper heating.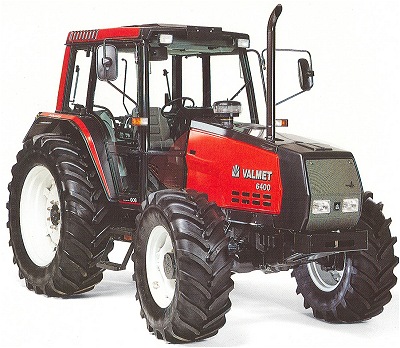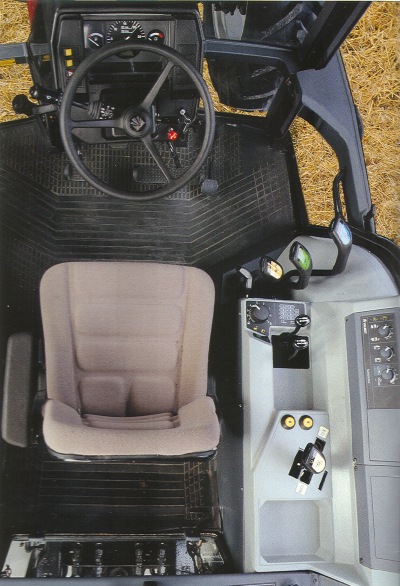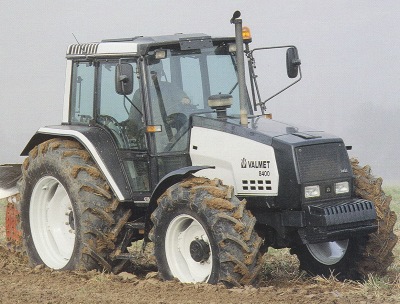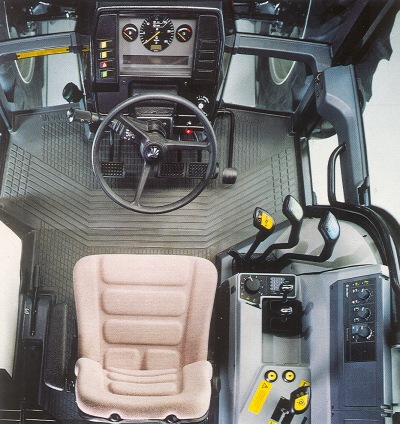 The Nordic series cab was roomy and well-heated, but in less than 10 years it was replaced by a new design for the 6000 and 8000 Series. Now the cabin was more rounded and modern in style. The heating, cooling, and air conditioning system was located in the roof, where it was easier to get fresher cooler air into the cab. The 05 series heater located in the dashboard worked well in cold climates, while roof heaters left the driver's feet freezing. As an option, the new cab had a second heater for the foot well – a unique Valtra feature soon to be celebrating 35 years!

The 05-series cabs were supplied by Volvo BM, but the new generation was made for Valmet and Valtra by the company MSK Cabins, a Finnish family-owned company which has been our home supplier since the 1960s. The MSK and Valtra collaboration is still going strong today.
25 years of development –with one tractor cab frame!
From 1965 to 1990 the open "workhorse" developed into a comfortable, sound-isolated, and air-conditioned cab. The following period of 1990 to 2015 Valtra maintained its position with one main concept which was under constant development and improvement. A major step forward for tractor driver comfort at this time was cab suspension, eventually leading to the award-winning AutoComfort.  Sound isolation and air conditioning were also constantly developing. At this time, vast improvements were made to ergonomics by introducing the Valtra power shuttle, automatic transmission features, and finally armrest control for transmission, hydraulics and many other functions.
Staying one step ahead
It remained essential to maintain the best, safest, and most comfortable entry into the cab. And the possibility of working in reverse remained important. Thanks to Valtra's achievements in these areas new markets were opened, and Nordic sales started to have a minor share in volumes.
The transmission and control system development TwinTrac full reverse drive system became even easier to work with and increased in popularity. Although not reflected so much in sales, the forest cab was also an important development. Both of these were unique Valtra features and not something the rivals could offer.
However, one question remained unanswered. Upfront visibility was poor. This was especially noticeable when using a front loader. Despite this, the T888 cab (our official project name) has had a successful product life, improving farmer's workplace - and since 2013 it has been produced also in Brazil for South American Valtra Series.
2014 launch
Valtra engineers and designers worked hard on a project named 'CM08' After six years of careful development the new 4th generation T Series was launched with a totally new cabin. Safe and easy access was incorporated with an efficient and ergonomic design. Exceptional attention was paid to visibility, by not only making the largest possible windows but also making it easy to see through them in all conditions! It has good heating and air conditioning with nozzles directed to all the windows, good window wipers and great work lights. With over half a square meter of roof window, front-loading is now an easy task. The total window area is over 6.2 square meters, improving all-around visibility. The commonly-used "360 degrees visibility" slogan was extended to "365 days and nights visibility" for good reason!
Special features like the forest cab were not forgotten. The roof window was now a one-peace polycarbonate solution of 0.83 square metres - making for even better visibility in rear-loading tasks. TwinTrac was also updated with electric steering, making the rear controls easier to adjust according to the work.
Digital Influence in tractor cab design

Three years later, the cab was updated to accommodate the revolutionary SmartTouch interface – a brand new control armrest and nine-inch touch screen. The terminal is easy and intuitive to use, incorporating Valtra Guide automatic steering with a fast-growing number of precision farming options. Development is not slowing down. A totally new steering column with A-pillar display and sophisticated interior trim were launched with the new Q Series in 2021 when new work lights were also introduced.
Since its launch in 2014, the Valtra 'T Series' cab has proven to be extremely popular. In test drives, Q Series customers have praised the Q Series' cab for its familiarity with the T Series and superb ergonomics and easy accessibility. Book a test drive with your local dealer to see how ergonomic and comfortable the cab really is. 
Request a demo of the Q Series
See what the Q Series cab is like for yourself. Request a test drive today.
Request a demo