Vohamij delivers 13 Valtra Unlimited tractors to Dutch Ministry of Defence
Last week, Vohamij, a Valtra dealer from Heythuysen – The Netherlands, made a spectacular delivery of 13 new tractors to the Dutch Ministry of Defence. Tractors produced by the Finnish brand Valtra are used at airfields belonging to the Royal Dutch Air Force.
They are primarily used in order to provide snow and ice control in critical parts of those airfields. The tractors from Valtra tractors have been modified by Vohamij to become multifunctional Defence vehicles, as a result of which they can be used to perform a wider variety of activities.
After an exciting European procurement process, the contract was awarded to Vohamij. "Our experience in tendering and procurement processes, our thoroughness in preparations and utilising the knowledge within our project team meant that we were able to submit our tender with a high degree of confidence," says Geert Camps, the director of Vohamij. "Customisation, technical development and working with high-quality equipment suitable for the heaviest of uses formed the successful formula of a collaboration between Vohamij, Mechan and Valtra."
Valtra is part of AGCO and the tractors themselves are produced in Finland. Marc de Haan is director of Valtra at Mechan, the Dutch and Belgian importer of Valtra. De Haan further emphasises that, from a technical and quality perspective, the tractors have traditionally always been designed to withstand the extreme conditions of the Scandinavian market. One of their distinctive features is therefore the sloping nose that maximises the in-cab visibility of everything that lies in front of the tractor. "In Scandinavia, many of these tractors are equipped with front-end loaders or deployed with a snow plough, so in situations like that, good visibility is a plus. But their ease of operation and efficient transmission are also an exact match with what the Ministry of Defence needed," explains de Haan.
Valtra has an Unlimited studio, in which the tractor can already be assembled at the factory according to the customer's wishes. Valtra's experience in providing vehicles for use by defence organisations and in the airports sector also meant that it was able to supply the tractors in the right colour, with custom tyres and even with snow chains from the outset. While these requirements were already provided for at in the factory, specific components were then added in the workshop of Vohamij in Heythuysen, so that the tractors fulfil all of the requirements of the Dutch Air Force.
"The tractors will be used by us for a very specific purpose, so we demand one hundred percent quality and deployability," said Franco Achtien, the project manager at the Ministry of Defence for this contract. "The Ministry of Defence needs to be more ready than ever and with these Valtra tractors, it will certainly succeed in that. We are very satisfied with this delivery and with the cooperation with Vohamij. There was open communication, great attention was given to our needs and the delivery itself was carried out down to the last detail and was entirely on schedule," concludes Achtien.
The 13 tractors from Valtra were transported and delivered to the Ministry of Defence by De Rooy of Son in a rather unusual convoy. After all, delivering 13 tractors to one customer at the same time does not happen all that often. And certainly not in this striking yellow colour. The convoy was also accompanied by several heavy pallets of snow chains, allowing all wheels to be fitted with chains. The vehicles and their equipment are ready to withstand the conditions that are thrown at it. Let winter come.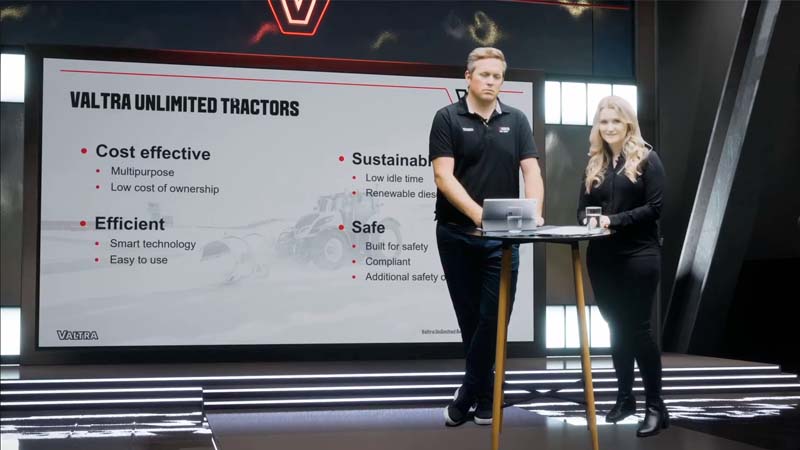 Find out more
To find out more about Valtra's airport ground care solutions, watch the free Valtra Unlimited Aviation Webinar from the link below.
Read more