Check out seven Valtra Unlimited requests from farmers and contractors
The Unlimited Studio has been customising Valtra tractors for ten years already at the Valtra factory in Suolahti, Finland. As its name promises, the Unlimited Studio has satisfied some of the most imaginative requests by customers. Almost 20,000 tractors have passed through the Unlimited Studio – here we present seven very different special requests. Find out how Valtra factory and Unlimited Studio can customise tractors to customers´ needs – maybe also to your needs?

N163 Direct tractor for Young Farmers of Finland

The Young Farmers of Finland organisation ordered a specially equipped N Series tractor from the Unlimited Studio for their marketing campaign. The pink and chromed tractor toured events throughout Finland to promote farming and the countryside. The eye-catching tractor pulled a wood-heated hot tub behind it. The showy tractor helped Young Farmers to raise awareness and also caught the eye of the press.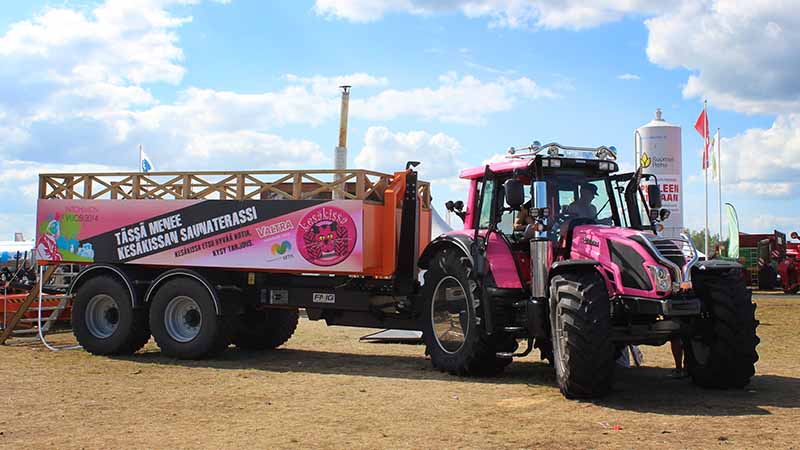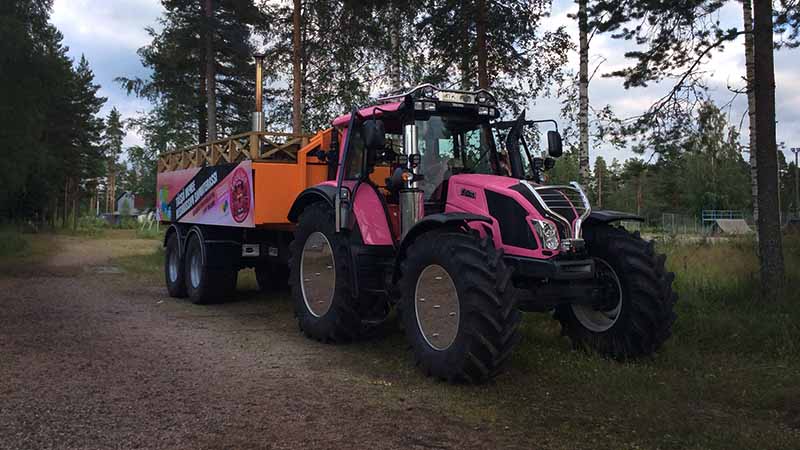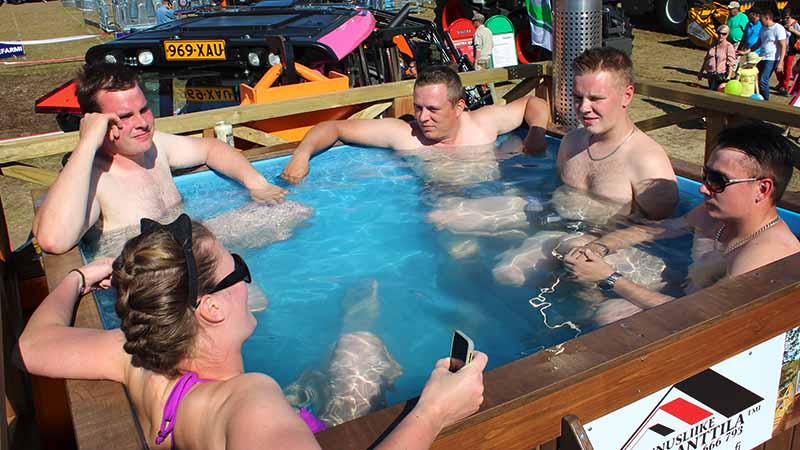 N163 Direct tractors are perfect for logistics tasks

In recent years, the defence forces, border guards and similar authorities of several countries have procured Valtra tractors that are customised at the Unlimited Studio. Often these tractors are used for maintenance tasks, for example at garrisons and airports, but the Finnish Defence Forces also use tractors for logistics tasks. The supply needed in different areas is transported in short sea containers on hook lift trailers pulled by tractors. Tractors equipped with front loaders can also be used for loading and unloading, as well as for ploughing roads in snowy terrain. The Finnish Defence Forces has already procured hundreds of Valtra tractors that have been specially equipped at the Unlimited Studio.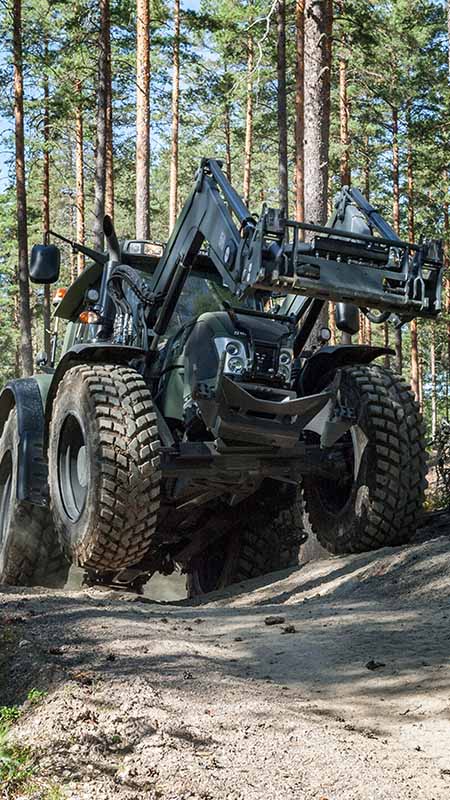 T214 Direct - the perfect tractor for sports ground maintenance

Hakunila Sports Park in Vantaa is the premiere winter sports venue in Greater Helsinki and each year hosts major competitions. Already in late autumn, snow cannons are used to prepare cross-country skiing tracks covering a distance of 5 to 10 kilometres. A dry manure spreader attached to a Valtra tractor is used to spread the snow. In addition, tractors are used at the sports park together with sanders, buckets, chippers, and earthmoving and forestry trailers, for example. Flexibility is the key, as tractors can be used for a wide variety of different jobs. The City of Vantaa operates a fleet of eight Valtra tractors in total.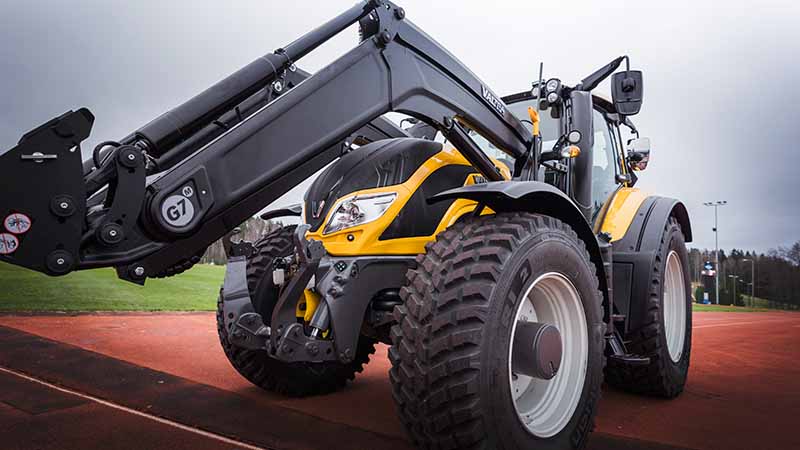 Valtra N Series tractors are perfect for road maintenance
The French Road Directorate has traditionally been a major customer for the Unlimited Studio. For example, the North West Interdepartmental Road Directorate has a fleet of seven Valtra tractors, including six N134 HiTech models and one N174 HiTech. All the tractors are equipped with Noremat mowers at both the front and rear: 2.3-metre mowers at the front and boom mowers with a lateral range of 5.5 to 8 metres at the rear. The latest emissions, brake and weight standards were important factors when procuring the tractors. The Unlimited Studio and mower manufacturer Noremat work together closely to provide ready combinations for customers.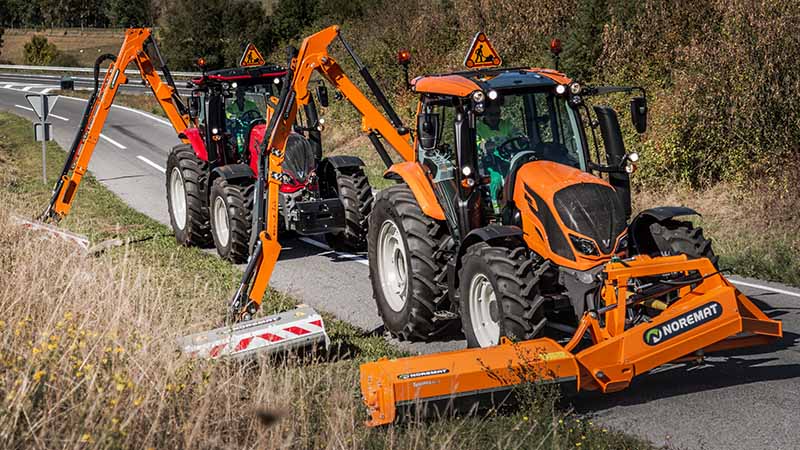 The T235 Versu tractor was the best option for machine contractor KoneRaivio Ky
Machine contractor Ville Raivio offers road maintenance services in the North Savo region of Finland. Typical tasks include, for example, snow ploughing, graveling, ice removal, brushing, grading, swath clearing and roadside mowing. The implements Ravio uses with his tractor include a heavy-duty Vuomet VRG road grader. Raivio maintains 150 kilometres of gravel roads in the region, where the weather varies from snow and frost in winter to rain and heat in summer. The darkness of winter requires good work lights. A tractor is a much more versatile work machine than a truck, for example.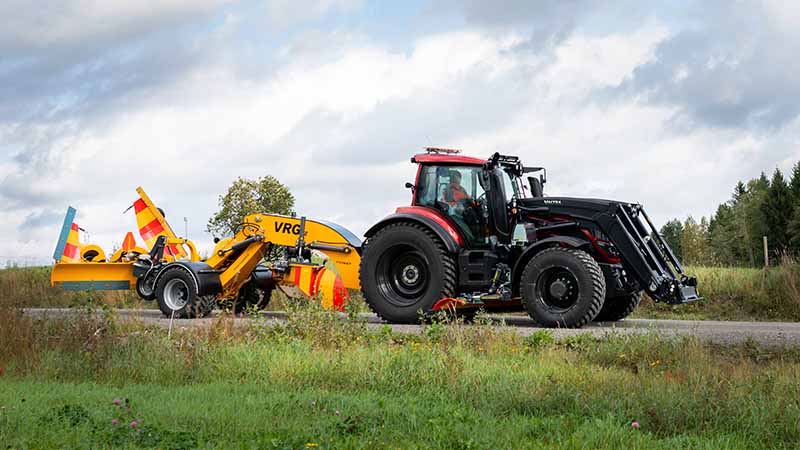 Valtra Unlimited for aviation ground care in extreme conditions - T235 Direct tractors for Finavia airports
Finavia, which owns, operates and develops a network of Finnish airports, has ordered several Valtra tractors equipped at the Unlimited Studio. At airports, tractors are all-purpose machines that can be used, for example, for mowing grass and ploughing snow. Airports also have to comply with international standards, which specify that tractors working at airports must have a special signalling colour. Finavia has also tested remote-controlled and automated tractors working at airports.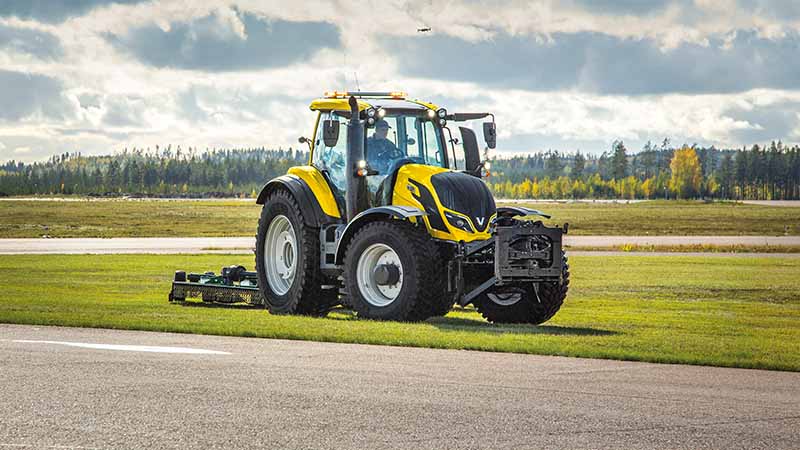 One man and his dog… and his Valtra Unlimited tractor
Perhaps the most sympathetic order from the Unlimited Studio was for a tractor delivered to a Finnish farmer in the early 2000s. The farmer's dog liked to follow his master in the fields and sit in the back of the cab. The only problem was that the roughened steps on the standard tractor hurt the dog's paws. The Unlimited Studio received a special request from the customer, and the problem was solved in an instant. In place of the standard steps, new steps were specially designed and installed that did not hurt the dog's paws while still working flawlessly.

Special features: Dog-friendly steps
Check out how Unlimited Studio can help you to use your tractor smarter, more efficiently, more easily, and maybe for totally new tasks you have never thought could be handled with a tractor. With an Unlimited imagination, what would you choose?