Ten years of customer-specified tractor solutions made in Finland
This year Valtra Unlimited marks ten years of providing customer-specified tractor solutions across agriculture, aviation, forestry, municipal, and other specialist sectors.  
During a Valtra Unlimited test-driving day arranged in Central Finland, our specialists and industry experts from Unlimited's partner network including Nokian Heavy Tyres, Piippo hydraulics, Kesla, Vuomet, Noremat, PTG and Arctic Aebi Schmidt showcased some of the latest innovations available from Valtra Unlimited.  

Valtra Unlimited's growth 

Valtra Unlimited has grown year-on-year from a few engineers producing a handful of customised tractors back in 2013, to a team of 27 professionals customising over one-third of the tractors that leave the Suolahti factory in 2022.
Valtra has always had a reputation for offering customers a high level of choice. In 1988 Valmet, as the company was named at the time, was the first manufacturer to offer a full range of cab colours for our customers to choose from. In the early nineties, Valtra's innovative customer configuration system was introduced at the Suolahti factory allowing customers to specify the exact configuration of their tractor from a wide range of factory-defined options. Valtra Unlimited was born out of a desire to take this customer-led specification to the next level. "The dream was to take our customisation even further – to develop it as a complete personalised experience where customers can specify all the equipment they need, directly from the factory" recalls Petri Loukiala, Senior Manager, Brand Management, Unlimited Operations.  

Initially, Valtra Unlimited's team customised tractors from just two workstations. However, demand quickly grew both with Finnish farmers and international customers from other segments. Today, the Unlimited studio has 10 workstations that can provide everything from custom design options to equipment and features that improve work efficiency and safety.  
"The dream was to take our customisation even further – to develop it as a complete personalised experience where customers can specify all the equipment they need, directly from the factory" - Petri Loukiala.
The majority of Valtra Unlimited customers work in contracting services in sectors such as farming, municipality, and light forestry work. The municipal sector was quick to recognise the benefits of multifunctional machines provided by Valtra Unlimited, with the defence and aviation sectors soon following. For these customers, specific colours, equipment, and safety lights are prerequisites. Customers in these sectors praise the versatility of Valtra Unlimited tractors. Roger Notting is a Public Procurement Officer at Lantmännen Maskin AB a leading agricultural machinery supplier in Northern Europe. He notes that, "the customers I work with the most are municipalities. When they need to plough snow, cut grass, and drive in the forest with a trailer, they use a tractor." Valtra Unlimited tractors can easily undertake all these tasks thanks to the specialist equipment and solutions Unlimited can supply. Valtra Unlimited works with a range of high-quality industry patterns to provide the solutions customers need from one point of contact. Valtra Unlimited solutions are also covered by factory warranty, and spare parts are always on hand.   

Valtra Unlimited's special solutions for specialist sectors 

One feature demonstrated at the test-driving experience was Valtra Unlimited's Central Tyre Inflation System by PTG. The system is controlled via SmartTouch and allows operators to easily adjust tyre pressures to reduce soil compaction and slippage on the field and lower rolling resistance and improve fuel economy on the road.  

Valtra Unlimited can supply a tractor fitted with Arctic Aebi-Schmidt and Vuomet underbody scraper blades to complete specialist tasks like snow and ice removal in winter and spreading and levelling gravel in summer. The same Unlimited tractor can then be used for sweeping using a front-mounted sweeper. At the same time, additional work lights and warning lights can be fitted at the Unlimited Studio to ensure the tractor is compliant with safety standards. Notting believes this is a great advantage to municipal and other institutions "When a customer chooses a tractor with special equipment Unlimited is the best. Our competitors in the market may have to make a local solution for specialist equipment. It's hard to put a price on this."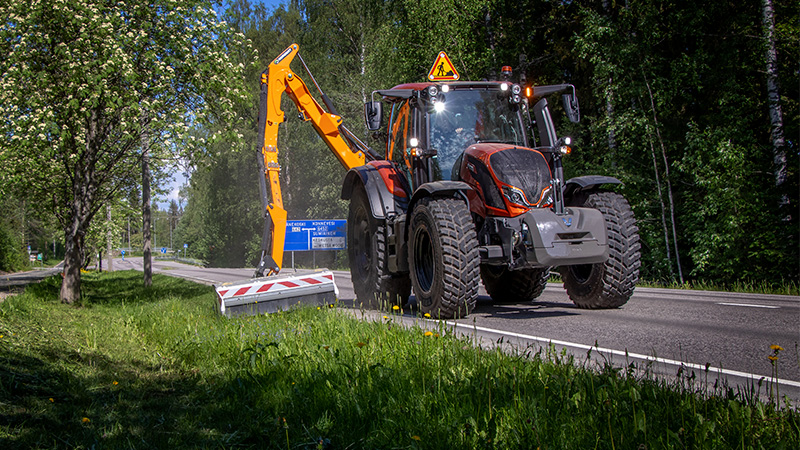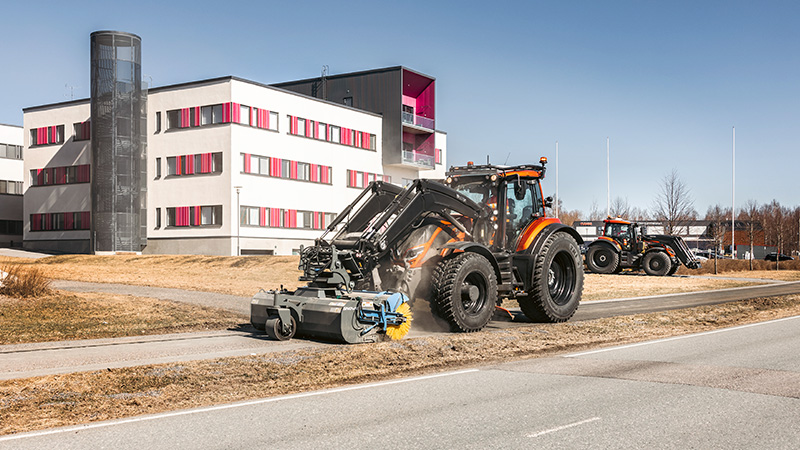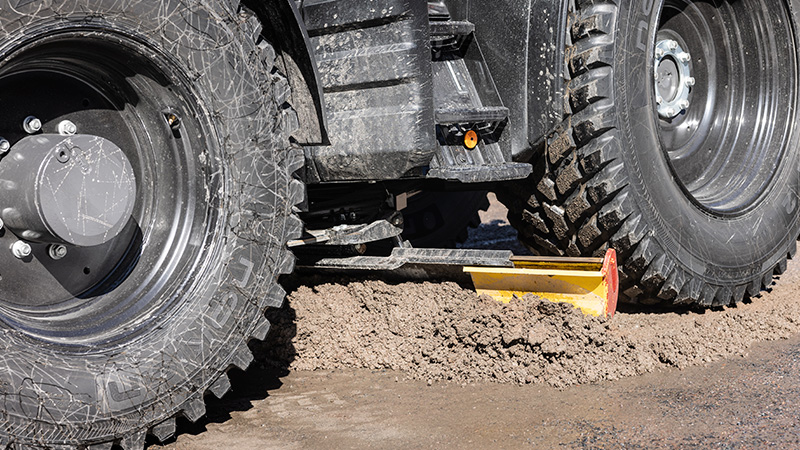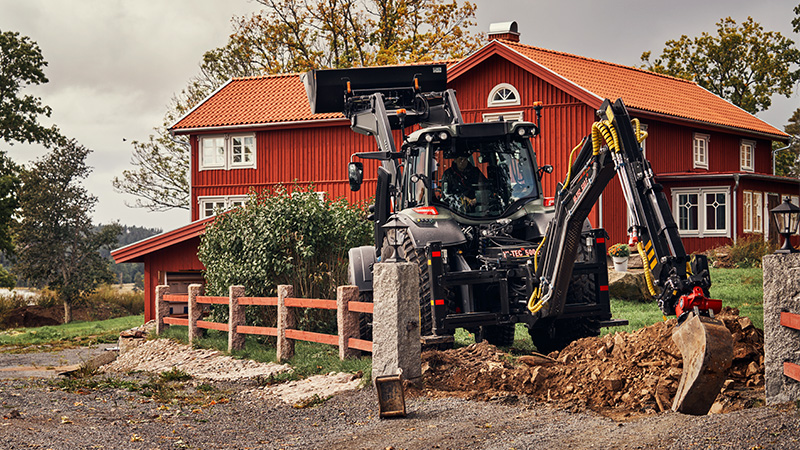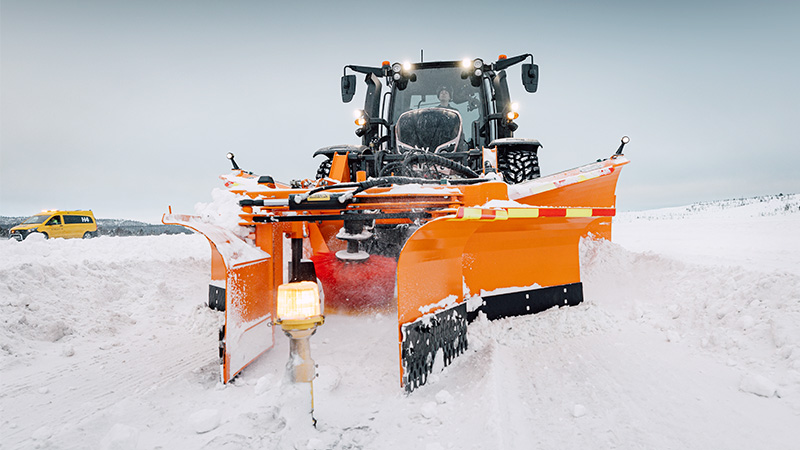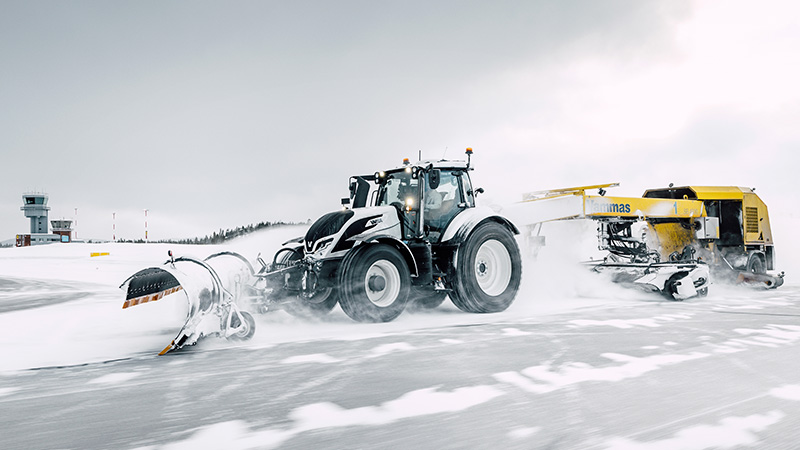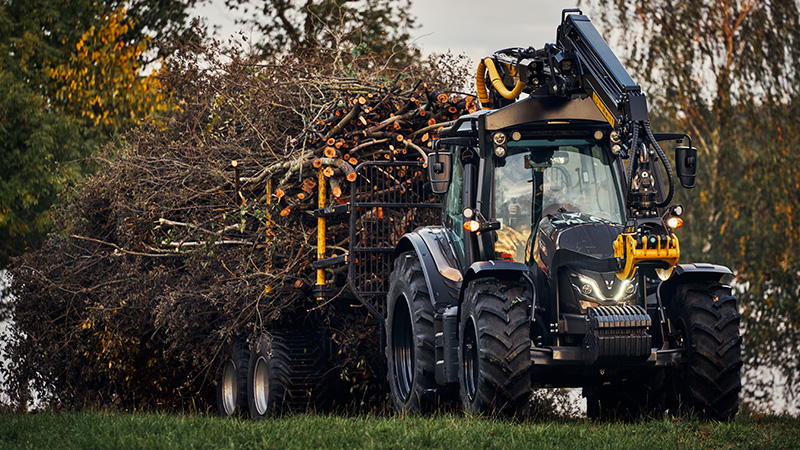 Valtra Unlimited multipurpose tractors can undertake many tasks that are useful in the defence sector, such as excavating, moving, and personnel logistics. To date, Valtra has sold over 200 tractors to the Finnish defence sector, as well as many other national and international defence organisations. 

Recently, Valtra Unlimited has sold a fleet of tractors to Swedavia, the Swedish airport owner and operator. A Valtra Unlimited tractor can be a good choice for many ground maintenance situations when paired with autoguidance. Valtra Guide allows an operator to map areas such as the vast grass areas beside runways for effective grass cutting, as well as airfield service roads before the snow comes for precise snow removal. 

We have also worked with implement manufacturer KESLA to design a unique fire-fighting solution.  Forest fires are notoriously difficult to tackle, as they often occur on rough terrain or in places that are difficult to access. In these situations, a tractor can be the best option. The KESLA fire-extinguishing trailer available from Valtra Unlimited consists of a multiuse trailer, grapple, and separate fire-extinguishing unit. A cannon mounted to the tractor's loader boom shoots water up to 30 meters allowing the operator to extinguish the fire from a safe distance.  
Valtra Unlimited looks to the future 

Valtra Unlimited is currently making investments to expand the Unlimited studio at the Valtra Suolahti factory, and increase the studio's expertise and innovation to continue serving customers' individual needs in various segments.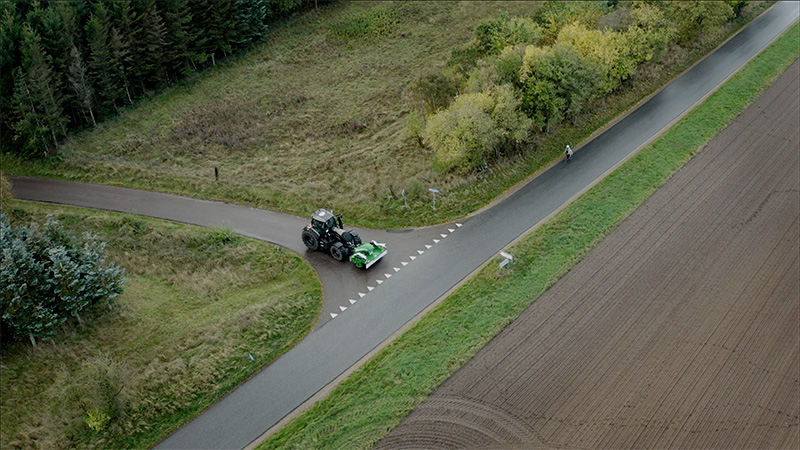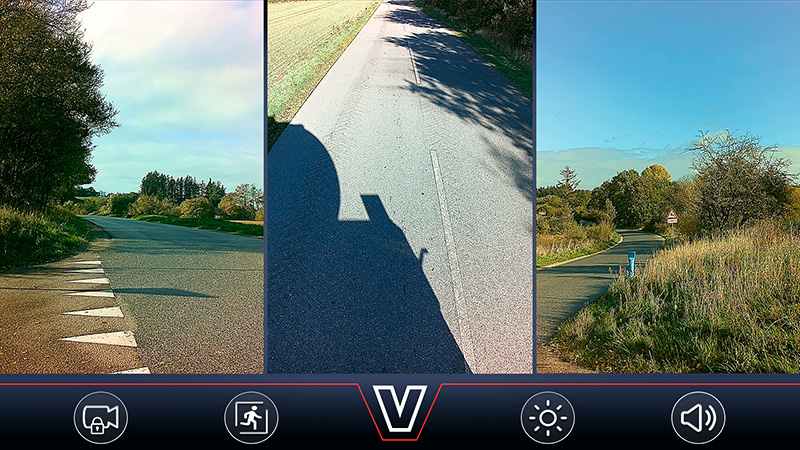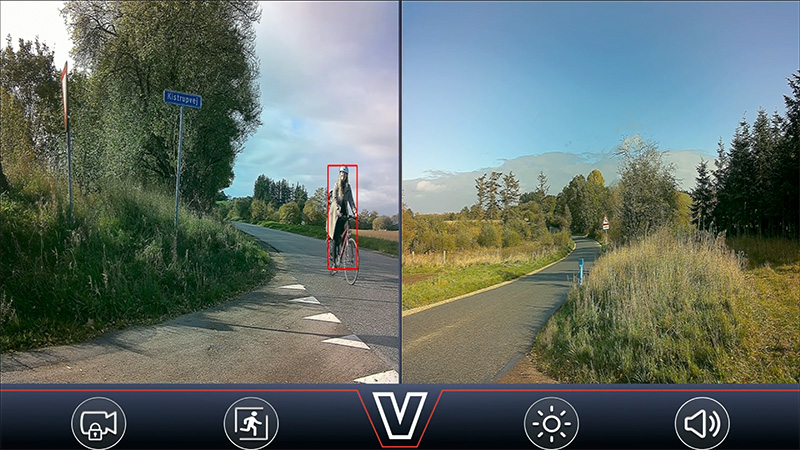 "Valtra Unlimited is investing in technology like the AI in Unlimited VIEW to solve customer needs with smart solutions". - Petri Loukiala.
Increasing numbers of customers are requesting cameras to be fitted to their Unlimited tractors. Valtra Unlimited VIEW is a new solution that increases the safety of everyone around the tractor. The system uses front and rear-mounted cameras and Artificial Intelligence (AI) to detect objects moving in front of the tractor. The operator can switch between camera views displayed on the high-resolution screen and is automatically alerted to potential hazards from moving objects via warning lights and sounds.  

Petri Loukiala says such solutions will play an increasing role in the future of Valtra Unlimited, "Valtra Unlimited is investing in technology like the AI in Unlimited VIEW to solve customer needs with smart solutions."  

We have recently updated our segment-specific Valtra Unlimited web pages to reflect the diverse solutions Valtra Unlimited can offer our customers.