Avoiding soil compaction
Avoiding soil compaction and improving water infiltration are two important factors for maximizing crop yields on farms. The Central Tyre Inflation System (CTIS) from Valtra is a smart way of easily adjusting a tractor's tyre pressure to minimise soil compaction and improve fuel efficiency. Recently, AGCO's Global Agronomy and Farm Solutions team undertook field studies to determine the effects on soil compaction and fuel efficiency of driving with different tyre pressures using the Valtra CTIS. In this blog, we look at the results of the study and the implications for increasing crop yields and improving fuel consumption. 
The importance of the correct tractor tyre pressures
Driving a tractor on the field with the correct tyre pressures helps to spread the tractor's weight over a greater area thereby reducing the soil compaction. This also improves traction and minimises slippage, thus improving fuel efficiency. There is a direct correlation between the use of reduced tyre inflation and yield increases. The magnitude of the yield impact varies significantly depending on the soil type, soil moisture and axle load.
What is a Central Tyre Inflation System?
A tyre inflation system monitors and adjusts the pressure of the tractor's tyres using the tractor's compressor. With the Valtra CTIS, the correct tyre pressure can be set from the SmartTouch terminal. The tractor then inflates or deflates the tyres to the pressure selected by the operator. 
Tyre inflation systems and improved crop yields – the evidence so far
Some studies have shown that driving with a tyre inflation system can reduce soil compaction by as much as 30% compared to driving with standard tyre pressures. One study by Purdue University found that reducing soil compaction through tyre inflation systems increased soybean yields by 30-100 kg per hectare. Another study published in the Journal of Agricultural Science found a significant increase in spring barley yield of up to 11% when using a tyre inflation system compared to standard tyre pressures. Research published in the Journal of Agricultural Engineering Research found that using a tyre inflation system on a tractor reduced soil compaction and increased winter wheat yield by up to 8% in test plots.
Studies by AGCO Global Agronomy and Farm Solutions team
In October 2023 the AGCO Global Agronomy and Farm Solutions team undertook field studies to test the effects of working with different tyre pressures on field efficiency, soil compaction and fuel efficiency. The study used the CTIS system from Valtra to adjust the tyre pressures of the Valtra Q305 utilizing 3 different tyre pressures 0,6 Bar, 1,6 Bar and 2,0 Bar. The trial work involved using a 5-meter-wide primary cultivator set at 20 cm working depth. Each test plot covered the entire field. This was possible by using the Valtra Guide and each plot was set to every third pass. That way every soil type and field terrain were included in all test plots. Results for each pass were then analysed and aggregated together to provide a representative analysis of the impact of the different tyre pressures. Various standards in the methodology (such as using Valtra SmartTurn, Valtra Guide, standardised ballasting, and standard tillage depth of 20 cm) ensured consistency. The tyres used were Bridgestone VF600/70 R30 + VF710/70 R42. The study was undertaken in 2023 in Denmark on a field of 18 Ha. The soil type was sandy-loam with clay-loamy hilltops. 

Description
Low tyre pressure
Farmer practice tyre pressure
High tyre pressure
Lowest recommended tyre pressure
Based on Bridgestone research what tyre pressure farmers most commonly use
Tyre pressure for high load and road transport high speed
Data
Tyre air pressure
Bar
0,6 Bar
1,6 Bar
2,0 Bar
Front axle load
kg
7020
7020
7020
Rear axle load
Kg
6350
6350
6350
Implement axle load
Kg
6760
6760
6760
Static F/R % Balance
% / %
52% /  48%
52% /  48%
52% /  48%
Dynamic F/R % Balance Est.
% / %
42% /  58%
42% /  58%
42% /  58%
The Benefits of using the Central Tyre Inflation System from Valtra.
The study found that using the CTIS reduced wheel slippage which resulted in 1,8 % higher field efficiency. The soil compaction depth was reduced by 17% compared to not adjusting tyre inflation pressures. Study lead, AGCO Agronomist, Jens Christian Jensen highlighted the importance of both metrics for increasing crop yield "The yield potential is reduced by 3-5% every year due to soil compaction. Utilizing a CTIS system can help farmers reduce that yield loss"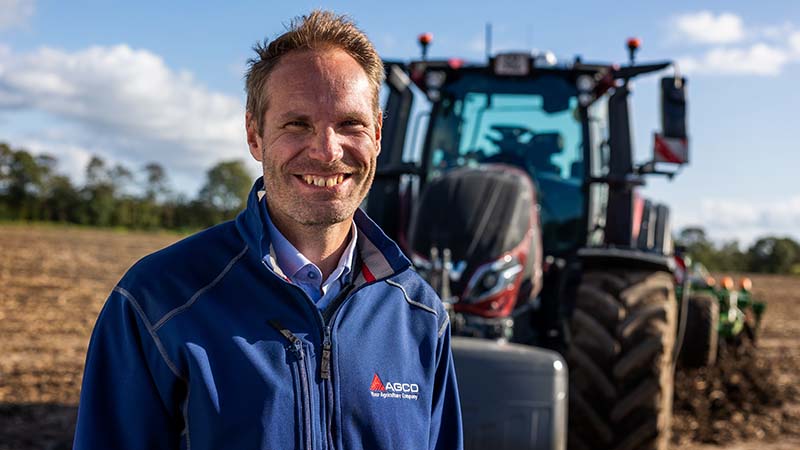 Quick fact:
1% higher yield due to reduced soil compaction is worth 21 EUR/ha
The study also found that fuel efficiency was improved by using the correct tyre pressures. For 0,6 bar pressure the recorded efficiency was 12,1 L/Ha, compared with 13,1 L/Ha for the control of 1,6 bar. For a farm of 100 hectares, this would equate to a total fuel saving of 100 litres per tillage pass.  
Valtra CTIS system
Available from Valtra Unlimited for Valtra N, T, and Q Series
For more information, contact your local Valtra dealer, below.
Contact your local dealer